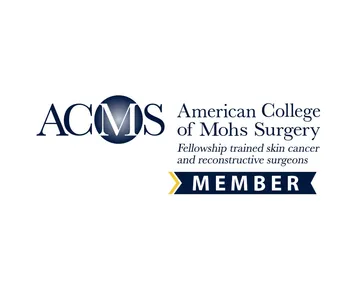 About the American College of Mohs Surgery (ACMS)
The American College of Mohs Surgery (ACMS) is a membership organization of more than 1,400 fellowship trained skin cancer and reconstructive surgeons specializing in the Mohs micrographic surgical technique used to treat skin cancer. The ACMS serves as the voice of the specialty, promoting and advancing the highest standards of patient care through fellowship training, research, education and public advocacy.
The ACMS was founded in 1967 by Dr. Frederic E. Mohs, who pioneered a highly specialized and precise technique that removes skin cancer in stages, one tissue layer at a time, resulting in minimal damage to the surrounding healthy tissue and the highest potential cure rate, up to 99%. The ACMS is the only organization that requires its members to have successfully completed an extensive one- to two-year fellowship training program in Mohs micrographic surgery after they have completed their years of dermatology residency training.
From its inception, the ACMS has promoted and continues to set the highest standards of patient care relating to Mohs micrographic surgery through its fellowship training process, during which members must have participated in at least 500 Mohs surgery cases under the supervision of an experienced Mohs surgeon.
Learn more at www.mohscollege.org.
Fellowship training
While any board certified dermatologist may perform Mohs surgery, only ACMS members have undergone rigorous fellowship training. Chosen through an extremely competitive review and selection process, fellows are required to complete an intensive 1 or 2-year post-residency ACMS fellowship training program. This extensive training includes participation in at least 500 Mohs surgery cases under the supervision of an experienced ACMS-approved Mohs surgeon.
Mohs surgery fellowship training programs must pass a rigorous application and review process before being allowed to train a fellow. Once the training program is approved, it must continue to adhere to accreditation standards set by the ACMS (for international programs), the Accreditation Council for Graduate Medical Education (ACGME; for U.S. programs), or the Australasian College of Dermatologists (ACD). ACGME and ACD programs are recognized by the ACMS, and fellowships accredited by these organizations safeguard the standards of Micrographic Surgery & Dermatologic Oncology (Mohs) by ensuring that fellows-in-training are properly trained and acquire the necessary expertise to perform the Mohs procedure. Accredited programs follow a structured curriculum that includes graded responsibility, operative and non-operative education, and exposure to long-term results, recurrences, and complications. All training programs are periodically re-evaluated on a 1 to 5-year basis to ensure that their academic and clinical requirements are being followed and fulfilled.
National reach
The ACMS is a national organization with national reach and a national profile. Members have shared their expertise and been featured in numerous medical journals, publications and newspapers, as well as on television and radio programs. ACMS members are regularly relied on for information on the effective treatment of skin cancer.
Engagement
ACMS members are involved at the highest levels of top dermatological organizations nationwide, including the American Academy of Dermatology, American Society for Dermatologic Surgery, and more.
Unique collaboration
Mohs surgeons work closely with members of the American Society for Mohs Histotechnology (ASMH), an organization of 375+ skilled technicians who process the slides used to determine the amount of tissue removed during the Mohs surgery. They are a vital part of the surgical process and are essential to successful surgical outcomes.
Origin and history
Mohs surgery is named after its founder and originator, Frederic E. Mohs, MD (1910-2002), who pioneered the procedure during his time at the University of Wisconsin in Madison.
In June 1936, Dr. Mohs treated his first patient, who had squamous cell cancer of the lower lip.
The present-day ACMS was founded in 1967 by Dr. Mohs as the American College of Chemosurgery. Over the years, the Mohs surgical process was refined and in 1988, membership changed the name to
March 2017
American College of Mohs Micrographic Surgery and Cutaneous Oncology. This was shortened on the College's 40th anniversary in 2007 to American College of Mohs Surgery (ACMS).